Saturday, 12 December 2015
Milan's Vertical Forest is the World's Most Beautiful Skyscraper
"Bosco Verticale" is Milan's greenest building, powered by renewables and covered in trees.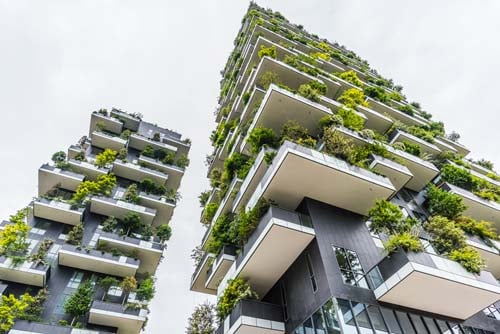 The
2015 Milan Expo
will be coming to a close at the end of October, and very little of the marvelous pavilions and buildings millions of people have been visiting will stay up after the final day. However, because of the huge scope and resonance of the event, the city had been going through a makeover to prepare for the beginning of Expo this May. In 2014, Milan's skyline was permanently changed with the introduction of futuristic towers made of glass, iron, and most interestingly, trees. One of these new buildings was in fact the so called
Bosco Verticale
(Vertical Forest), designed by architecture firm Studio Boeri. The project was one of six ideas developed by the studio to turn Milan into a model city for sustainability and biodiversity, and it recently won the 2015 CTBUH Award, thus becoming the best tall building of the year.
A Splash of Green
The building's name surely sounds interesting, but how exactly does a vertical forest look like? The two residential skyscrapers, built by the edge of the once unpopular Isola neighborhood, look very much like huge green Jenga towers. Each floor is adorned by large irregular balconies that host more than 900 trees and 14 thousand plants. Integrating all of this lush green into a luxurious apartment complex has an endless list of benefits for the lucky ones who can afford to live there. Trees filter the light during the summer and let it in in the winter, act as a shield from wind, absorb fine dusts, release oxygen and humidity. The main difference between Bosco Verticale and a city park is space: highly urbanized cities that simply don't have the free land to build new parks may have a new way to inject some well needed nature into hyper polluted environments.
Completely Sustainable
The Bosco Verticale towers are a feast for the eyes, with their 110 and 75 m height covered with all kinds of vegetation. However, what happens underneath the surface is equally impressive. The buildings are powered by renewables: wind, solar and
geothermal energy
are combined to supply both towers with electricity and heat. The towers will have their own wind turbines and 500mq of solar panels on their roofs. Rain and greywater is collected and reused for irrigation. The whole neighborhood of Porta Nuova Isola, where they were built, was revolutionized before the Expo to include new residences and office buildings that received the LEED certification - Leadership of Energy and Environmental Design - for their seamless integration of nature, sustainability and advanced technology. A year of success In October, Bosco Verticale celebrates its first birthday. During these 12 months, the project has received endless praise from all over the world, and won several awards as the best highrise of both 2014 and 2015. Architect Stefano Boeri has expressed his wish to spread a "new model of living in nature but in the city". In our increasingly urbanized cities, Vertical Forest may become a beautiful solution to the lack of clean air and the need for contact with nature.